Accommodation
Looking at the Pawanthorn villa from the outside makes you wonder exactly what's hidden behind the walls, the landscaping and the imposing wooden gates. In fact the whole of Pawanthorn has an air of exclusivity and opulence. There's a distinctive look of quality, but more than that is the attention to detail in every element of the outside space. Intricate pathways, tropically planted gardens, lighting, and the construction and architecture itself, all have something which draws your attention.
Each villa has been constructed and dressed in a unique and specific theme. Ratchaphruek is in a Thai style; Mei is a Chinese influenced villa and Lotus very much focuses on Indian styling.
The names have been carefully chosen to represent the national flowers of each of these nations, with the flower representing exceptional natural beauty and stunning details.
Ratchaphruek
Thai-style Villa with private pool Villa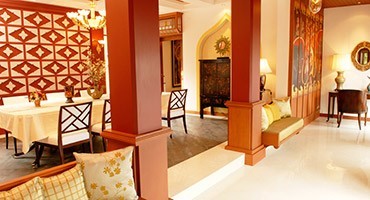 You enter the Thai-style villa through heavy wooden gates which open into a breathtaking open courtyard. Steps lead you down to an entrance pool, complete with floating stepping-stone path leading through the pool to the villa entrance. Across the front of this room is a large sun terrace with sun-loungers.
Mei
Chinese-style Villa with private pool Villa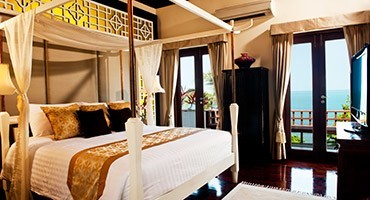 This Chinese-style villa has the very essence of the Chinese culture embedded in every carefully planned and impeccably designed detail; in every room throughout the whole property.This terrace lined pool features with a covered poolside sala providing a place to relax, dine or simply escape the Samui
Lotus
Indian-style Villa with private pool Villa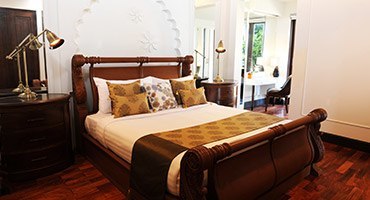 This Indian influenced villa has some interesting and unique architectural features to allow for the natural topography of the location. In fact the entrance hallway leads into the open-plan lounge and dining area which forms a bridge-like structure spanning a natural dip in the landscape.
Pool Villa
One Bedroom Villa with private pool
Our pool villas are a new addition to the resort and offers the ultimate in luxury accommodation. It is a wonderful honeymoon hideaway for couples and with its own private pool, is private and discreet. There is an en suite bathroom, with a large custom made sunken bath, again, furnished to the highest quality.